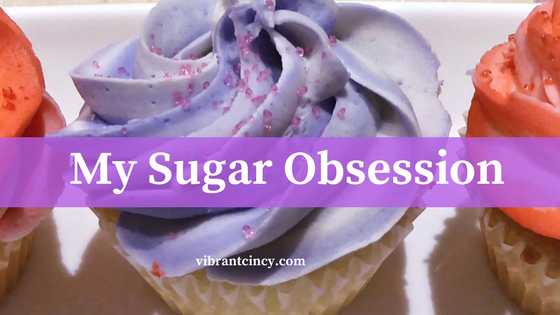 I have an obsession with sugar.
For years, I don't think I even knew I had a problem with sugar. I was a pretty normal American. I ate the fast food, plenty of bread and pasta, and I put ketchup on pretty much everything. I remember in college, I had this thing with my coca-cola. I was always willing to share, but never, ever, leave me without one. Life could get ugly without my coke (cola). It's kind of interesting now when I see sugar being compared to cocaine… hmmm. I also recall in college eating a snickers bar and mountain dew for breakfast and joking (hopefully) that it was healthy with peanuts and citrus. Later as a professional working in Philadelphia, my breakfast graduated to the big Philly pretzel and mountain dew. Looking back on my life, I also realized that not only was I self-medicating with sugar, but others were also medicating me. While working on a project for school, and group dynamics were getting stressed, I was advised to take a candy break and my friend a smoke break. Even with giving up alcohol, I learned it may have even been more of a sugar attraction than alcohol. The drinks I favored were the flavored martinis, of course. On one of my health initiatives, I became vegan. Oh yes, chocolate soymilk and vodka. I had a lot to learn about healthy eating….
Let's fast forward. So now, I've kicked this sugar addiction, but I have to admit I'm still obsessed. The obsession is different now. My view has changed, and I've learned a lot about the sugar industry and the havoc a diet full of added sugar causes with both physical and mental health. Now, my obsession is shining the light on the truth about sugar and help others to break free.
The sugar industry has been incredibly successful. The reach that they have. Wow. You have to actively avoid it, and even then you get a sneak attack. Think you're being healthy eating your fruit cup-- watch out, it may be spritzed with sugar. Being watchful and reading your ingredients… but do you know all 257 names for sugar? Maybe you check out the label, and you see sugar words, but they are falling at the end of the ingredient list, so you think it's not bad. They got you again. That's another trick of the trade. They divide up the sugar into different names so that each individually fall at the end, but if you add up all the amounts into one sugar, it could very well be one of the first ingredients. Everyone was convinced fat was bad, and more sugar made its way into our foods and diets. I can be so naive. I think I really thought that sugar was a key ingredient in recipes, and that companies formulated the recipe and sugar amount based on what tastes best. I learned that actually the recipe can be formulated based on the amount of sugar it takes to addict a small child. A lot of people are aware of the cookies, candy, and donuts, but they don't think too much about the sugar that can be found in their peanut butter, tomato sauce, yogurt, salad dressing. Before you know it, you're in sugar overload. And the thing about sugar, is it leaves you wanting more.
Once you learn more about the health impact of this sugar overload, you start to question and even challenge its place in your life, your family's life, your workplace, and your children's school.
I'm offering two sugar challenge programs that both start next week. Each includes 5 weekly calls which will provide education and support for completing the challenge. You'll be part of a facebook group with others completing the challenge, so you can share and support each other. I'll be posting tips as well. You'll have access to an app with tracking and messaging with me as your coach. It also has a shopping list and recipes to help you.
The sugar industry has overtaken your sense of taste. You'll be amazed at what real food tastes like after freeing yourself from the processed food you're hooked on. So I challenge you to reclaim your tastebuds and your health.
Want to learn more?
Sign up for the challenge https://squareup.com/store/vibrant-cincy/
Follow me on facebook https://www.facebook.com/vibrantcincy/
Contact me at vibrantcincy@gmail.com